turquoise la boheme pendant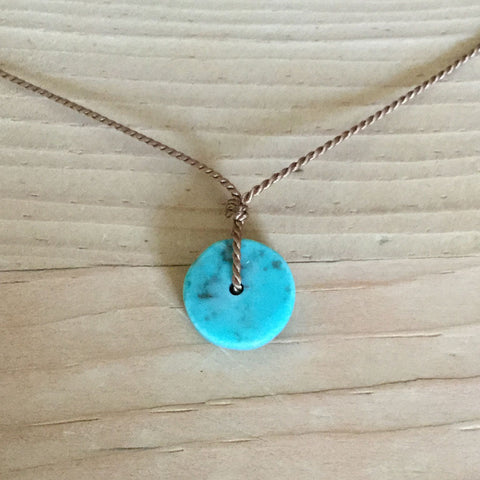 Show off your Boho Chic style with this versatile La Boheme hand-knotted pendant, featuring a 10mm disc of serene blue Turquoise suspended from pure silk. This Turquoise disc is beautifully marked with iron pyrite matrix, giving it the unique mottled appearance that is beloved in the American Southwest.
About Turquoise: Turquoise may be the oldest stone used in man's history; Turquoise beads have been found in Iran dating back 5,000 years, and it was prized in Ancient Egypt and Persia - and of course has been associated with Native North Americans throughout their known history. Turquoise has spanned all cultures, prized as a symbol of wisdom and nobility. A sweet traditional saying is "he or she who owns a Turquoise will never want for a friend"; given by a loving hand, Turquoise brings happiness and good fortune.
Turquoise is the "Master Healer", used by crystal healers to dispel negative energy and enhance the immune system. It is said to stimulate the regeneration of tissue and to heal the whole body.
Turquoise also promotes leadership, and is a stone of clear communication - good for writer's block! It is traditionally worn for power, luck and protection; it has also been considered a symbol of wisdom, nobility and the power of immortality. For travelers, Turquoise protects you and your possessions against theft, loss or attack. 
Throughout history, Turquoise has been used to honor female divinities - Native Americans honored Estsanatlehi, the Goddess of Change, known as Turquoise Woman and Whope, the Goddess of Peace; Ancient Egyptians honored both Hathor, Goddess of Joy & Fertility, and Maat, Goddess of Justice, all with Turquoise jewelry and objects.
Turquoise is the birthstone for December, and is associated with the Third Eye chakra, supporting intuition and meditation. When placed on the Throat chakra, it releases inhibitions and allows a person to express himself and bring forth his deepest wisdom. 
Information: These beautiful Matrix Turquoise flat disc beads are approx. 10mm each; strung on a pure silk 16" cord with sterling silver lobster clasp.
NOTE: These stones, like much of the Turquoise on the market, have been stabilized to protect the color; the beads will have slight variations in amount of matrix, and color, but all are beautiful in their individual way. Allow us to choose for you.