rose quartz faceted briolette pendant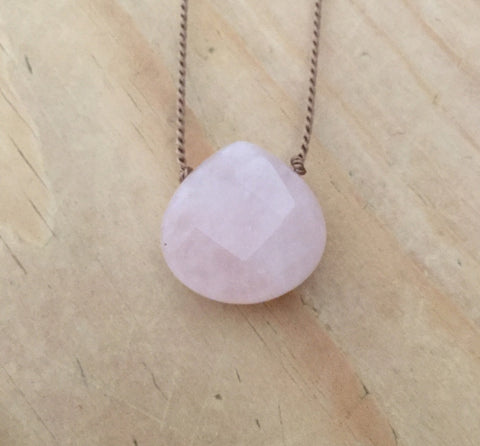 Show the love and be in the pink with this fresh and pretty faceted Rose quartz briolette necklace.  Wear it alone, or layer it or combine it with other stones (gorgeous with pearls), charms, and pendants to create your very own look.
About Rose Quartz: Rose quartz has been beloved around the world throughout history. It is known as the love stone; it is the stone of Universal Love and Unconditional Love. Wearing it on the body can contribute to a strong sense of self-worth, and the feeling of being worthy of love. Rose quartz can bring inner peace, and opens the heart to love in all its forms; it heals the heart, dissolving emotional wounds, fears and resentments. Rose quartz has been used as a love token throughout history; it is considered effective at attracting new love, romance and intimacy and helps develop stronger bonds with friends and family. Associated with the heart chakra, Rose quartz has been used as a stone of love, tenderness and sensuality.
Rose quartz inspires the love of beauty - in nature, in oneself and others; it also stimulates the imagination. Rose quartz may also be placed by the bed or in the relationship corner of the home to restore trust and harmony, and encourage unconditional love.
Information: This faceted heart briolette is 15 mm; strung on a pure silk 16.5" cord with sterling silver lobster clasp.
NOTE: These natural Rose quartz stones may have slight variations in size, color and clarity, but all are beautiful in their individual way. Allow us to choose for you.