natural chrysoprase "stick" pendant with faceted carnelian accent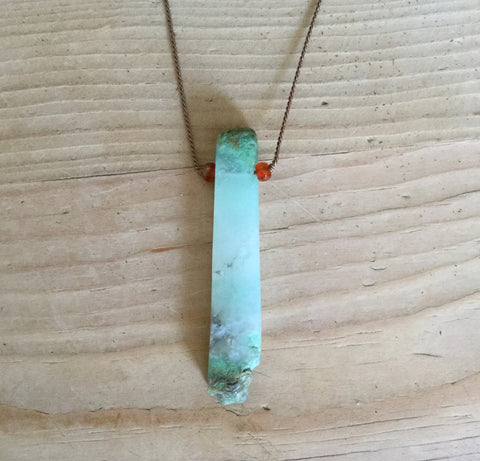 Make a statement with this natural Chrysoprase and Carnelian pendant - it's a showstopper! Natural nickel inclusions cause the gorgeous brown variegations; each "stick"-cut stone is different - see photos for examples. These natural Chrysoprase "sticks" are from the mountains of China and are accented with natural faceted carnelian rondelles.
About Chrysoprase: Chrysoprase is a variety of chalcedony, and is one of the more valuable stones of this group.
It is thought to promote joy and happiness; it also promotes feelings of love, and of forgiveness and compassion towards others.
Wearing Chrysoprase emphasizes the energy of manifestation; abundance and prosperity will be accentuated; it may help you to manifest money.
Put one of these stones under your pillow to create restful and peaceful sleep.
Chrysoprase is associated with the heart chakra; it has a wonderful energy of love; through its association with the solar plexus chakra, it brings you the energy of abundance on all levels. These two energies combine to bring love and prosperity into your life, and the possibility of attracting new love, if that is what you desire.
Information: These "stick"-cut natural Chrysoprase stones range in various sizes from 30 - 50mm in length; strung on a pure silk 16.5" cord with faceted natural Carnelian rondelles and a sterling silver lobster clasp.
NOTE: These stones will have extreme variations in size, shape, color/inclusions and clarity, but all are so facinating and beautiful in their individual way. Allow us to choose for you.