green jade faceted briolette pendant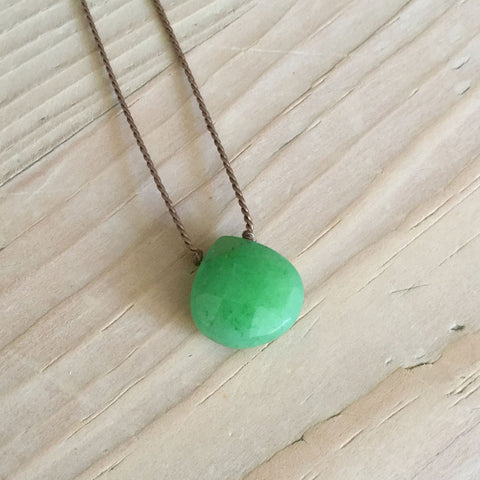 What's the freshest color for Spring? Bright green! Your friends will be green with envy when they see you wearing this pretty, sparkly pendant made from a faceted green jade briolette.
Jade has been loved as a gemstone for over 7,000 years. It is considered a symbol of serenity and purity; it soothes the mind, releasing negative thoughts. A protective stone, jade keeps the wearer from harm and brings harmony. A piece of jade kept in the pocket or worn as a pendant to stroke from time to time recharges one's energy and, traditionally, is considered to guard against illness.
In ancient China, jade was called "The Stone of Heaven" and it was believed to have been made from crystallized moonlight that had fallen down to Earth from the highest peaks of the most holy mountains. In ancient Egypt, it was the stone of love, inner peace, harmony and balance. The ancient Mayas, Aztecs and Olmecs valued it more than gold.
Each color of jade has different attributes; green jade calms the nervous system; it can also help someone searching for their heart's true desire. It helps the wearer express love, and also attracts good luck and friendship.
As a stone of the heart, jade is related to the Heart chakra, and so enhances and attracts love of all kinds.
Information: This faceted heart briolette is 10 mm; strung on pure silk 16" cord with sterling silver lobster clasp.
NOTE: These color-enhanced stones may have slight variations in size, color and clarity, but all are beautiful in their individual way. Allow us to choose for you.