jewelry
turquoise demi luna necklace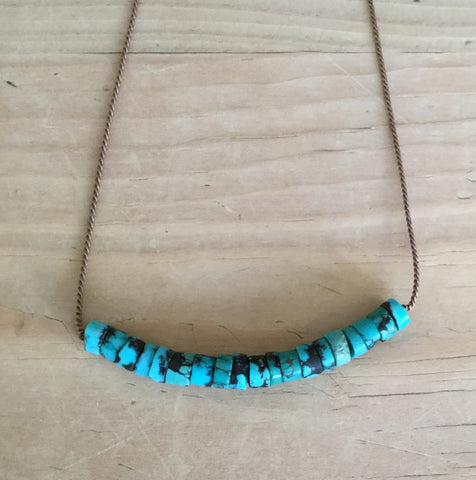 Cultivate tranquility and serenity with this Turquoise Demi Luna (half-moon) necklace. Made with wheel-shaped beads, this Turquoise is beautifully marked with iron pyrite matrix, giving it the distinctive mottled appearance that is beloved in the American Southwest.
About Turquoise: Turquoise may be the oldest gem stone in man's history; Turquoise beads have been found in Iran dating back 5,000 years, and it was prized in Ancient Egypt and Persia - and of course has been associated with many Native North American peoples throughout their known history. Turquoise has spanned all cultures, prized as a symbol of wisdom and nobility. A sweet traditional saying is "he or she who owns a Turquoise will never want for a friend"; given by a loving hand it brings happiness and good fortune.
Turquoise also promotes leadership, and is a stone of clear communication - good for writer's block! It is considered the "Master Healer"; beneficial for healing and strengthening the whole body.
Throughout history Turquoise has been used to honor female divinities - Native Americans honored Estsanatlehi, the Goddess of Change, known as Turquoise Woman; the Sioux honored Whope, the Goddess of Peace; Ancient Egyptians honored both Hathor, Goddess of Joy & Fertility, and Maat, Goddess of Justice, all with Turquoise jewelry and objects.
Turquoise is associated with the Third Eye chakra, supporting intuition and meditation; when placed on the Throat chakra, it releases old inhibitions and allows a person to express him/herself once again.
Information: These beautiful Matrix Turquoise wheel beads are approx. 4mm each; strung on a pure silk 17.5" cord with sterling silver lobster clasp.
NOTE: These stones, like much of the Turquoise on the market, have been stabilized to protect the color; the beads will have slight variations in size, amount of matrix, and color, but all are beautiful in their individual way. Allow us to choose for you.
---
More from this collection